Parents and carers are invited to share their experiences of playgrounds for children with vision impairment and their parents and carers.
Please read the Participant Information Statement below before proceeding to the survey at https://sydney.au1.qualtrics.com/jfe/form/SV_eevC9X8CNimjBZk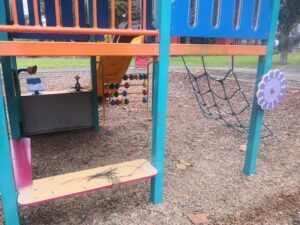 Participant Information Statement
What is this Study About?
You are invited to take part in a research study that investigates the experience of playgrounds for children with vision impairment and their parents/carers.
Outdoor spaces such as parks and playgrounds provide specific opportunities for intergenerational experiences between adults and children. Importantly, accessing local play opportunities goes beyond fun – it is fundamental to enhancing quality of life, enabling development, learning, flexibility, and resilience for intergenerational users (including the elderly). However, children and adults with diverse abilities and impairments face challenges in accessing local community areas when they are not designed with social inclusion in mind. Through surveys and group interviews of relevant stakeholders, we aim to determine a set of best practice guidelines for designing accessible and inclusive community environments that are fundamental for enabling the social inclusion of as many people as possible to enhance community integration, belonging, health and wellbeing.
You have been invited to participate in this study because you are either parent or carer with vision impairment visiting a playground with your child, or your child has a vision impairment. This Participant Information Statement tells you about the research study. Knowing what is involved will help you decide if you want to take part in the research. Please read this sheet carefully.
Participation in this research study is voluntary
By giving your consent to take part in this study you are telling us that you:
Understand what you have read.
Agree to take part in the research study as outlined below.
Agree to the use of your personal information as described.
Who is running the study?
The study is being carried out by the following researchers:
Dr Dagmar Reinhardt, Associate Professor, Architecture, The University of Sydney
Dr Lian Loke, Associate Professor, Design, The University of Sydney
Dr Sue Silveira, Macquarie University, NextSense
Dr Kathleen Tait, Associate Professor, Macquarie University
Leona Holloway, Inclusive Technologies, Monash University
What will the study involve for me?
You will be asked to participate in an online survey/questionnaire that will contain several questions regarding a) age and level of vision impairment for your child/or yourself; b) the frequency of use of the playground; c) the response on accessible equipment; d) your understanding of interactions that the playground enables for your child with other children; e) if you enjoyed the experience, and f) what improvements could be made. There is also an invitation for general additional comments and feedback about the experience of playgrounds that you and your children have had. The results of this study are planned to be published, and that publication will not contain your name or any identifiable information about you.
How much of my time will the study take?
The survey should take you about 10-20 minutes.
Who can take part in the study?
Any people over 18 years old can take part in this study.
Do I have to be in the study? Can I withdraw from the study once I've started?
Being in this study is completely voluntary and you do not have to take part. Your decision on whether to participate will not affect your current or future relationship with the researchers or anyone else at the University of Sydney. You are free to stop your participation in the survey at any time and may refuse to answer any questions that you do not wish to answer. Submitting your completed questionnaire is an indication of your consent to participate in the study. You can withdraw your responses any time before you have submitted the questionnaire. Once you have submitted it, your responses cannot be withdrawn because they are anonymous and therefore, we will not be able to tell which one is yours.
Are there any risks or costs associated with being in the study?
Aside from giving up your time, we do not expect that there will be any risks or costs associated with taking part in this study. If participating in this study causes you to feel anger or distress, please contact the Paediatric Vision Impairment Alliance Australia with whom we are partnering: Paediatric Vision Impairment Alliance Australia, email: pviallianceaustralia@yahoo.com, Beyond Blue on 1300224636; or Lifeline on 131114.
Are there any benefits associated with being in the study?
You can get a better understanding of playgrounds and support the blind/low vision community to work towards more accessible and inclusive playgrounds. If you are interested, you can also further participate collaboratively with us in designing new strategies for playgrounds in a follow-up workshop.
What will happen to information about me that is collected during the study?
By providing your consent, you are agreeing to us collecting personal information about you for the purposes of this research study. Your information will only be used for the purposes outlined in this Participant Information Statement unless you consent otherwise. Your information will be stored securely, and your identity/information will be kept strictly confidential, except as required by law. Study findings may be published, but you will not be individually identifiable in these publications.
Can I tell other people about the study?
Yes, you are welcome to tell other people about the study.
What if I would like further information about the study?
When you have read this information, Dagmar Reinhardt will be available to discuss it with you further and answer any questions you may have. If you would like to know more at any stage during the study, please contact Dagmar Reinhardt (email: dagmar.reinhardt@sydney.edu.au or via phone +61 407346473).
Will I be told the results of the study?
All collected data will be anonymous and therefore we could not contact you and tell you about the results of this study directly. However, please feel free to contact researchers and make enquiries regarding future publications resulting from this study.
Can I participate further in this study?
All participants are invited to further participate in the study and discuss and co-design inclusive and accessible playgrounds. Should you choose so, you can indicate in the survey if you like to be contacted regarding future research.
What if I have a complaint or any concerns about the study?
Research involving humans in Australia is reviewed by an independent group of people called a Human Research Ethics Committee (HREC). The ethical aspects of this study have been approved by the HREC of the University of Sydney (2022/648). As part of this process, we have agreed to carry out the study according to the National Statement on Ethical Conduct in Human Research (2007). This statement has been developed to protect people who agree to take part in research studies. If you are concerned about the way this study is being conducted or you wish to make a complaint to someone independent from the study, please contact the university using the details outlined below. Please quote the study title and protocol number.
The Manager, Ethics Administration, University of Sydney:
Telephone: +61 2 8627 8176
Email: human.ethics@sydney.edu.au
Fax: +61 2 8627 8177 (Facsimile)