Simple handmade tactile graphics can be a quick and immediate solution for providing access to graphics, particularly those with important spatial layout. Refer also to our brief summary of design principles for tactile graphics.
Equipment and materials
Almost any materials can be used to create collage pictures for tactile readers. The key is to find a practical solution that is quick and easy for you to use.
Collage
smooth, sturdy (150gsm) paper is recommended
spur/tracing/embossing wheel for dashed lines (available from dressmaking and blindness equipment stores) or ballpoint pen pressed firmly for a solid line. Place the paper on a flexible surface (rubber, foam or cardboard) then run the spur wheel or pen firmly across the page to draw lines.

pros: quick
cons: the drawing must be done in reverse from the back side of the page. Pens may tear the paper.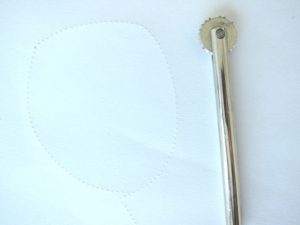 craft ink / fabric paint / hot glue gun to create raised lines

pros: drawing can be done from the front of the page
cons: time must be allowed for drying

textured paper or fabric. Mesh, heavy canvas, rigid cardboard, felt sheets and textured wallpaper can be cut and applied to a page to create raised shapes.
sting with glue. Soak the string in glue before applying it to the page to create raised lines. Knots can be used to create points along the line.

pros: cheap, readily available materials. Creates very distinct raised lines.
cons: Time must be allowed for drying.
Tactile drawing boards
Tactile drawing boards can be constructed by hand or purchased commercially. They can be used by both vision impaired users and sighted assistants. Drawing is applied to the top of the page.
plastic sheets (Mylar sheets). The sheets pucker up and form a raised image on the drawing side. They must be used in conjunction with a rubber drawing board and an ordinary stylus or ball-point pen.
Sensational Blackboard. Use in conjunction with ordinary paper and pen to form raised lines on the drawing side.

pros: cheap, readily available consumables

cork board. Use push pins and elastic bands or string for graph construction, or cut-out shapes and braille labels for concept maps, timelines, flow charts, etc.

pros: cheap, readily available consumables
cons: graphics are temporary

Further references

---

Last updated: August 8, 2018 at 14:17 pm