Simple handmade tactile graphics can be a quick and immediate solution for providing access to graphics, particularly those with important spatial layout. Refer also to our brief summary of design principles for tactile graphics.
Equipment and materials
Almost any materials can be used to create collage pictures for tactile readers. The key is to find a practical solution that is quick and easy for you to use.
Collage
smooth, sturdy (150gsm) paper is recommended
spur/tracing/embossing wheel for dashed lines (available from dressmaking and blindness equipment stores) or ballpoint pen pressed firmly for a solid line. Place the paper on a flexible surface (rubber, foam or cardboard) then run the spur wheel or pen firmly across the page to draw lines.

pros: quick
cons: the drawing must be done in reverse from the back side of the page. Pens may tear the paper.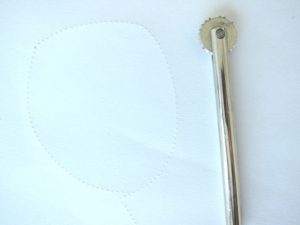 craft ink / fabric paint / hot glue gun / embossing powder to create raised lines, which can be traced over a print graphic. Refer to tactileimages.org for instructions on how to use wood glue and a syringe.

pros: drawing can be done from the front of the page; can create a professional result attractive to print readers
cons: time must be allowed for drying

textured paper or fabric. Mesh, heavy canvas, rigid cardboard, felt or foam sheets, plasterboard tape (with a grid texture) and textured wallpaper can be cut and applied to a page to create raised shapes.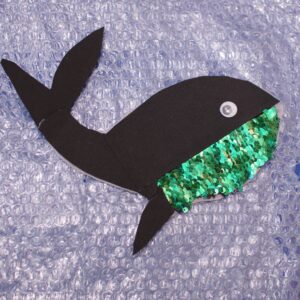 string with glue. Soak the string in glue before applying it to the page to create raised lines. Knots can be used to create points along the line.

pros: cheap, readily available materials. Creates very distinct raised lines.
cons: Time must be allowed for drying.

magnets on a white board. Whiteboard tape is an excellent addition to create thin lines.

pros: cheap, portable, re-usable, gives good visual contrast and distinct tactile pieces
cons: not durable. Pieces can easily be knocked out of place.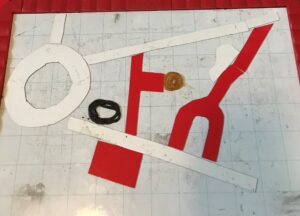 Wikki Stix are acrylic string with a wax coating. They can be bent and stuck to paper to form simple and colourful tactile drawings. They can't be broken by hand but can easily be cut with scissors. They are reusable.

pros: Reusable. Quick and instant. Can be used by blind children to create their own drawings.
cons: Not durable.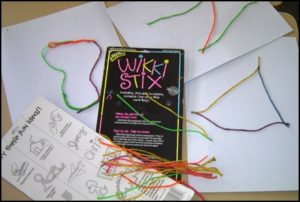 Tactile drawing boards
Tactile drawing boards can be constructed by hand or purchased commercially. They can be used by both vision impaired users and sighted assistants. Drawing is applied to the top of the page.
plastic sheets (Mylar sheets). The sheets pucker up and form a raised image on the drawing side. They must be used in conjunction with a rubber drawing board and an ordinary stylus or ball-point pen.

availability: inTACT Sketchpad (includes an eraser tool),  DRAFTSMAN Tactile Drawing Board, TactileDoodle kit, or the TactiPad Drawing Board (includes drawing tools with measurement and the option to pair with a motorised drawing arm for drawing from computer images). A similar effect can be achieved using A4 plastic sleeves/sheet protectors over a flexible mouse mat.
cons: expensive consumables; erasures are not possible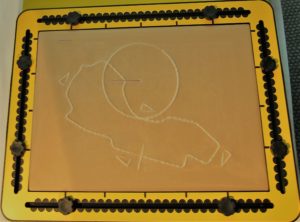 Sensational Blackboard or silicone baking mat. Use in conjunction with ordinary paper and pen to form raised lines on the drawing side.

pros: cheap, readily available consumables

cork board. Use push pins and elastic bands or string for graph construction, or cut-out shapes and braille labels for concept maps, timelines, flow charts, etc.

pros: cheap, readily available consumables
cons: graphics are temporary

flyscreen gauze or similar can be used underneath standard paper. When drawn on with crayon, the lines are slightly raised and textured.

pros: cheap, readily available consumables. Suitable for drawing by vision impaired children.
cons: not tactually clear
Magnatab magnetic drawing tablet
Designed as toys, magnetic drawing tablets have a grid of metal balls and a magnetic pen that raises the balls. It does not give good results for reading graphics but is a fun tool for blind children to practice drawing and can also be used for braille, albeit at the incorrect size.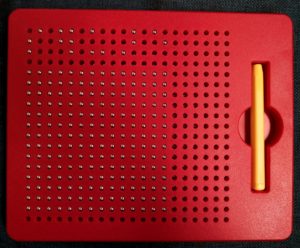 Further references

---

Last updated: July 28, 2021 at 10:53 am