Skip to: Object detail; Visual description; Context; About the artist; Soundscape; Next artwork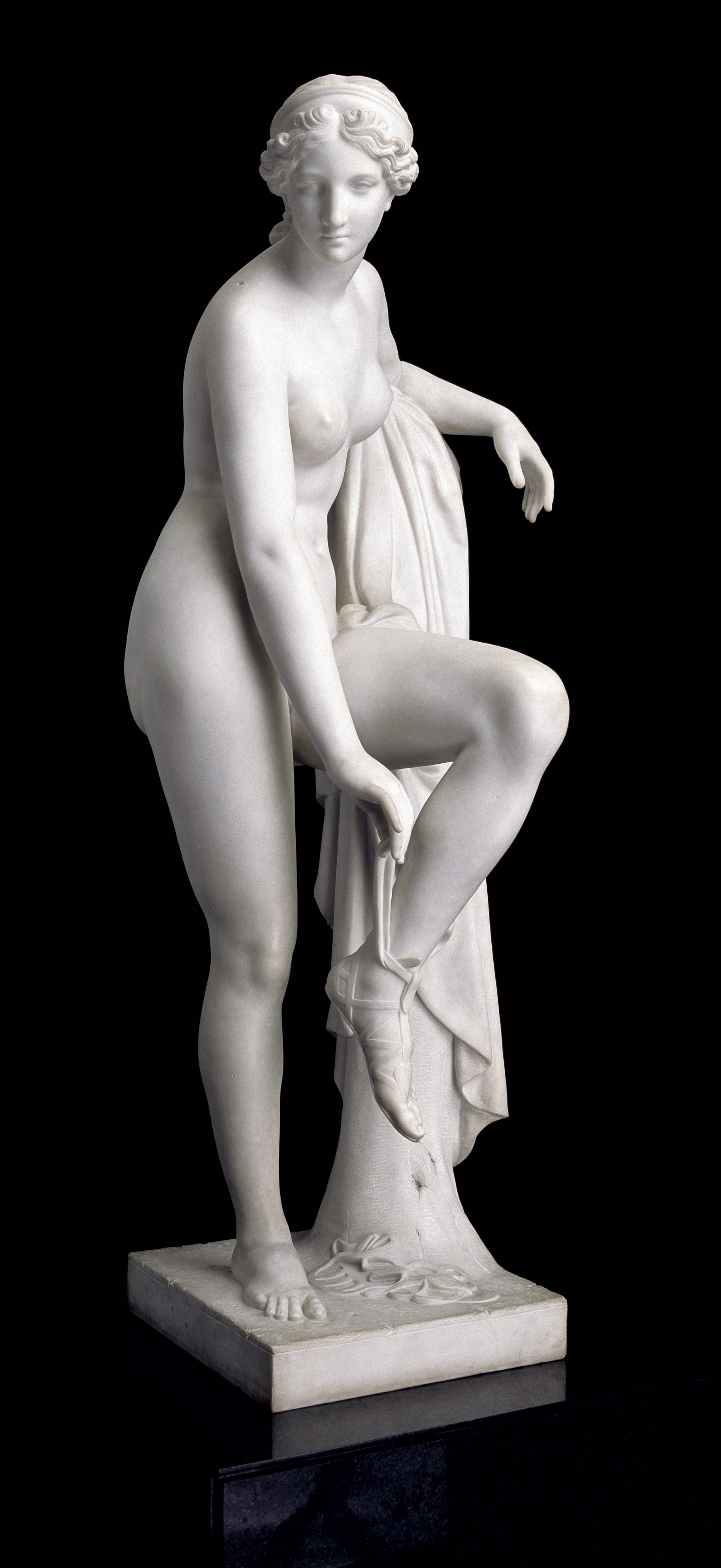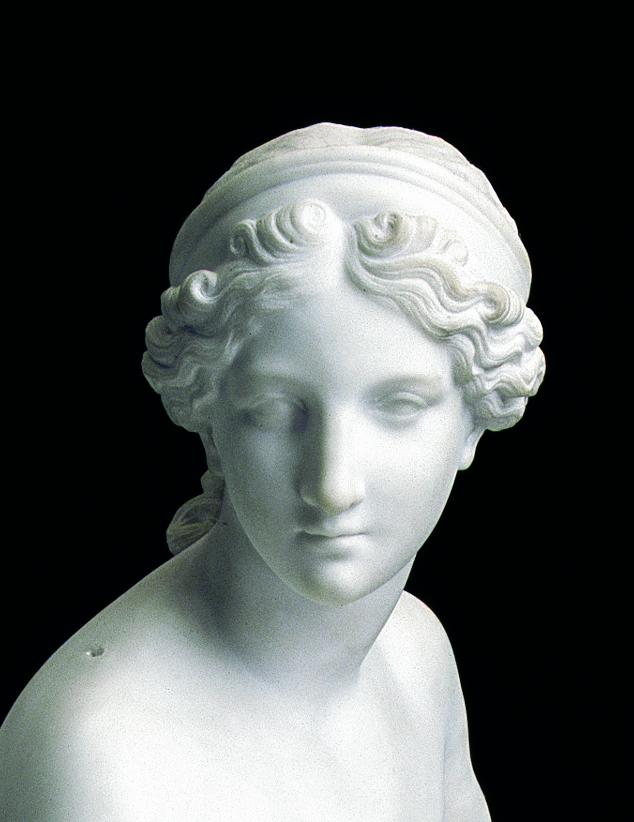 Object Detail
Title: Venus Tying her Sandal
Artist: Ettore Cadorin
Date: 1913
Object type: sculpture
Medium: Carrara marble on wood pedestal
Location: Gandel Philanthropy Sculpture Gallery 15 (beside the cafe)
Visual description
The statue represents a naked woman with short curly hair and a cloth hair band. Her left foot, with a strapped sandal, is raised and she is holding the ties of the sandal with her right hand. Another sandal is lying on the floor. Her left arm rests on a pillar with a cloth draped over it. Her pose is relaxed and she looks outward to her right.
On close examination, there is a subtle love-heart motif between her toes on the left foot. From the rear, a representation of exotic fruit is carved into the statue's lower half.
The statue is carved from clear white marble obtained from Carrara. It is of superior quality to other marbles, being spotless and clear from cracks. The surface is shiny.
Context
Historical and cultural context
This statue represents a simple episode in the life of Venus, the Roman Goddess of love. Originating from Greek mythology, Venus is believed to have been the daughter of either Jupiter or Dione.
The statue and its symbolism would have been seen as quite daring and erotic for its time.
Bendigo Art Gallery
The artist, Ettore Cadorin, was married to Australian contralto, Erna Mueller, who trained at the Bendigo Conservatory. Venus Tying her Sandals was purchased by Bendigo Art Gallery in 1914, the year after it was completed. It is on permanent display in the sculpture room and is an icon of the Gallery.
About the artist
Ettore Cadorin was born in 1876 in Venice, Italy, into a long line of artists. Cadorin studied in Venice at Académie Royale des Beaux Arts, winning a medal at this time. The King of Italy decorated him with Cross of Chevalier Officer of the Crown of Italy. He further studied art in Paris and travelled to Australia in 1913, where he lived for a short time and married local girl Erna Mueller, the daughter of well-known mining immigrant Ernst Mueller. In 1915, Cadorin went to the U.S.A. in 1915. He worked at Columbia University before moving to California in 1925 to teach drawing and sculpture at the Santa Barbara State Teachers College. During the 1940s he was a resident of San Francisco. His best known work in the USA is he 1930 bronze statue of Junipero Serra, housed in the Capitol Building, Washington D.C.
Although the sculpture has obvious classical references, Cadorin saw himself as a modern sculptor. He was described as being interested more in thought expression rather than the material thing, allowing for a more realistic vision to permeate his works.
Cadorin died in 1952 in California, USA.
Soundscape
"Venus", Movement II of The Planets by Gustav Holst.
Next artwork
Paintings: The Drover; The Golden Wedding; A Primrose from England.
Sculptures: Folly.