Please check back regularly for monthly updates.
Progress made
October 2018
October 2018 marked the beginning of the three-year project investigating the use of 3D printing for access to graphics by people who are blind or have low vision.
Standards: A shared document was created on Google Drive with tips and tricks for printing for accessibility. This is a working document that will be continually added to throughout the project. It is not yet ready for release but please contact leona.holloway@monash.edu if you would like access to evaluate or add to the document.
November 2018
Mapping: Work commenced on creating TinkerCAD components for modelling street crossings.
Standards: Began modelling of 3D-printable textures.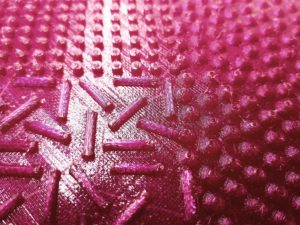 Administration: The first meeting held with the project's expert advisory group. The project team is joined by representatives from partner organisations (the Department of Education and Training, Round Table on Information Access for People with Print Disabilities, Guide Dogs Victoria, the Royal Society for the Blind) and peak organisations from the print accessibility sector (Vision Australia, Blind Citizens Australia, Queensland Tactual Mapping Committee). Meetings will be held quarterly in March, June, September and December.
December 2018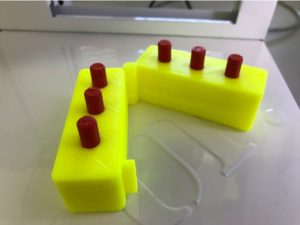 Tactile Literacy: Face-to-face brainstorming meetings were held with production and teaching staff at RIDBC and SVRC. Some of the main areas they suggested where 3D printing could assist in tactile literacy:
Braille swing cell
Braille games
3D shapes – solid, cross-sections and nets
Games matching 3D objects with tactile graphics
January 2019
Collaboration: Research Assistant for the project, Leona Holloway, joined the DIAGRAM working group on 3D tactile standard. The group meets fortnightly and has a focus on 3D printing for education for students with vision impairments.
February 2019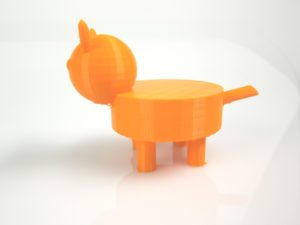 Tactile Literacy: We conducted our first school visit, discussing the materials required for touch readers in their first years of primary schooling. Suggested materials included:
tens frame for placing counters
MAB blocks with outward-facing lines
braille number line
fun "find the shape" activities
March 2019
Administration: The project's expert advisory group met for the second time. Bruce Maguire joined the group on behalf of Vision Australia.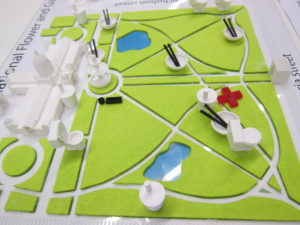 Mapping: "Immerse Your Senses" was the theme of the 2019 Melbourne International Flower and Garden Show,  held at the Carlton Gardens from Wednesday 27 to Sunday 31 March. We created an accessible map of the Show with 3D-printed icons, along with handheld models of the Rob Waddell Show Garden and Guide Dog Victoria's sensory garden. Over the course of the event, we collected feedback on the maps from 10 visitors who are blind or have low vision.
April 2019
Mapping: Throughout April we focused on analysing the results from the mapping study run at the Melbourne International Flower and Garden Show in March and writing a paper for an international conference submission. We were also busy preparing materials for the mapping workshop in May.
May 2019
Collaboration: The Round Table on Information Access for People with Print Disabilities Inc. is a major project partner. Their annual Round Table Conference for 2019 was held in Brisbane with the theme "The Changing Landscape for Accessible Information". On Sunday 5 May, project Chief Investigator Matt Butler of Monash University delivered a feature presentation about the project entitled "Partnering for Progress".
Mapping: On Monday 7 May, Leona Holloway and Matt Butler (Monash University),  Tony Starkey (Royal Society for the Blind) and John-Ross Barresi (Guide Dogs Victoria) presented a hands-on workshop demonstrating a collection of 3D-printed maps of the Round Table Conference location and surrounds. Approximately 70 people were in attendance, providing feedback from their perspective as touch readers, accessible formats producers, teachers, O&M instructors and technology providers.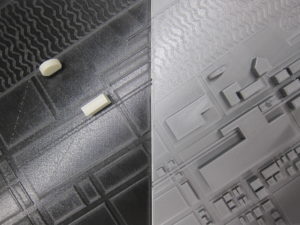 Guidelines: Work continues on creating a variety of textures that can be incorporated into 3D prints. At a SensiLab Open House evening, we trialled a "mystery box" activity asking people to find matching textures by touch. It was a surprisingly difficult task! This activity will be extended for more formal trials and the upcoming Extrasensory evening as part of National Science Week.
Tactile Literacy: We have started collecting and designing 3D materials to support vision impaired students in their first year of schooling. These materials include: braille swing cell; braille fidget cube; braille word cube; MAB blocks; tens frame; number lines; fraction pies; tactile coin for flipping; braille dice; tactile dominoes; tangram puzzle; 3D shapes with equal volume; tactile ruler; 3D maps of familiar places; data grid. Please let us know of any further materials you think would be useful at this level.
June and July 2019
Administration: The project's expert advisory group met for the third time in June.
Collaboration and Promotion: On Thursday June 20, Matt Butler spoke about the ARC Linkage Project and 3D printing for tactile literacy at VISCON in Sydney. VISCON is a two day biennial conference for educators and related specialists in education for children who are blind or have low vision.
Tactile Literacy: A survey on tactile materials for the classroom is ready for distribution.
Mapping: We toured two schools for which 3D maps will created for use by students beginning there in 2020.
Guidelines: A selection of 50 textures were designed and printed for testing in a series of tactual discrimination tasks.
August 2019
Promotion: As part of National Science Week, we were invited to take part in an event at Parliament of Victoria with the theme "ExtraSensory". We hosted a room in which we had activities relating to 3D printed icons for tactile maps and tactile discrimination of 3D printed textures. The event attracted over 1,000 visitors with whom we were able to speak about our research and the importance of accessibility.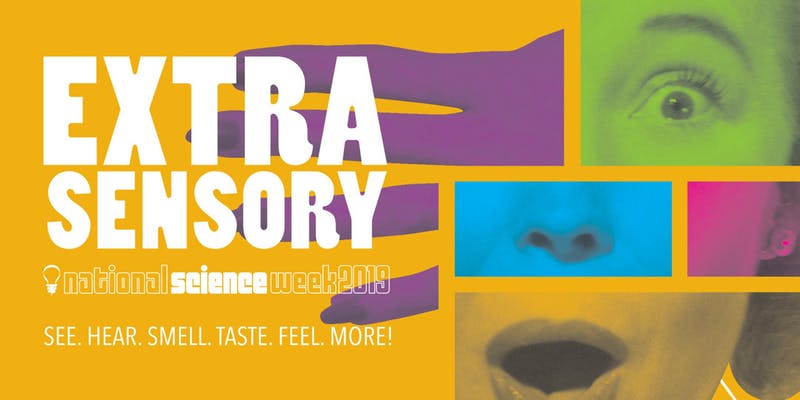 Guidelines: The "ExtraSensory" event provided a perfect opportunity to collect a large amount of data to assist in the identification of a range of 3D printed textures that are tactually distinct from one another and suitable for use on accessible maps and learning objects.
September 2019
Guidelines: We continued our work on 3D printed textures, collecting additional data from people who are sighted, blind and deafblind. We are now able to make recommendations regarding the design and selection of 3D printed textures for touch readers.
Mapping: We produced 3D printed maps of a school ground and classrooms. These maps will be used by a student starting at the school in 2020 with assistance from their O&M instructor. Feedback will help inform design of further maps.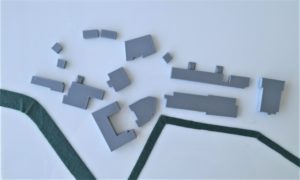 Planned events
Diversity and Inclusion Week – October 2019
On Thursday October 10, SensiLab will be hosting a showcase of projects by Monash University's Inclusive Technologies research group, including our work investigating 3D printing for accessibility. This event is free and open to the public from 10am-12pm in SensiLab Deep Immersion, Monash University, 900 Dandenong road, Caulfield East.
ACM SIGACCESS Conference on Computers and Accessibility – October 2019
ASSETS is the premier forum for presenting research on the design, evaluation, use, and education related to computing for people with disabilities and older adults. We will be attending this international Conference to present a paper on 3D printing for mapping from the Melbourne International Flower and Garden Show, along with a poster on accessible formats (including 3D printing) for access to art, as explored with Bendigo Art Gallery.
SPEVI Conference – January 2020
The next biennial conference of the South Pacific Educators in Vision Impairment (SPEVI) will be held in Adelaide in January 2020. We will present a talk, workshop and poster to share our work to date on the use of 3D printing for education.