Street crossings are an important concept for any child to learn, but even more so for children who are blind or have low vision. Orientation and mobility instructors also require tactile and high contrast mapping tools to help blind adults learn specific street crossings that they will need to navigate independently. Below, we have listed some resources that may be helpful.
Our Inclusive Technologies team at Monash University is working to create additional resources. Please contact leona.holloway@monash.edu if you would like to share your ideas about what you think is needed.
Tactile intersections by Lighthouse for the Blind
Lighthouse for the Blind teamed with an orientation and mobility instructor to create a collection of swell paper diagrams depicting common intersections. They are designed to teach about intersection designs, traffic flow and street crossings.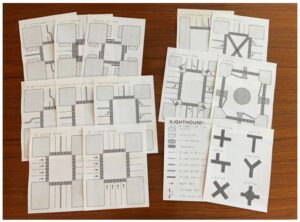 Cost is US$85 for a pack of 13 diagrams from the Adaptations store.
Tactile Town
Tactile Town is a kit of felt pieces depicting roads, dividing lines, grass, buildings, and more. It is best suited for teaching concepts of streets crossing to young children, who can create their own street scenes and learn through play.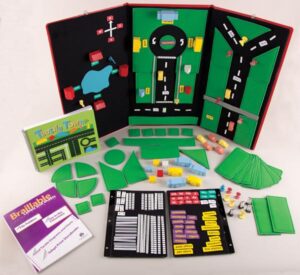 Cost US$470 from the APH shop.
Lego
Lego is a popular building tool that can be used to create simple square street scenes including people, vehicles, street signs and traffic lights. Base plates are available with a straight road, T-intersection, cross roads or curved road at a cost of around AUD$18 for a pack of two bases.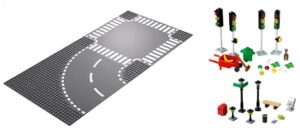 In Australia, Target also sells Lego-compatible base plates with the same variety of road crossings for $5 each.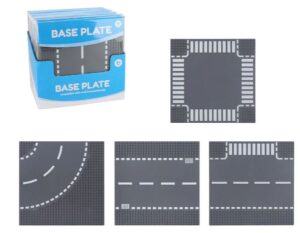 Road Tape
Create your own crossings for children to play and learn using plastic road tape on a contrasting colour and texture, such as a pale coloured fabric mat.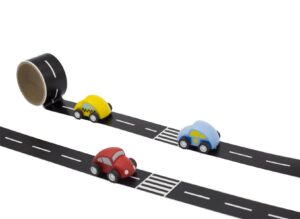 Sold locally as a roll of 8m of tape and one car for just over AUD$10 from Wombats or Little Online Shop.
Waytoplay rubber road segments
Waytoplay rubber road segments are thick, providing tactile contrast, and black with white line markings, providing realism and strong visual contrast. Segments can be bought in packs and combined to create an array of different crossings.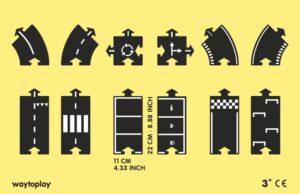 Cost AUD$65-$200 per set.
Other DIY methods for creating tactile graphics
Refer to our page on quick tips for creating tactile graphics by hand for a range of methods and materials that can be used to create handmade tactile graphics, including methods that blind people can use to draw their own street maps.