In our survey about the vision impaired community's access to information to COVID-19, you told us that you want more information about recommended daily living practices for people who are blind or have low vision. We hope that the collated information below is of value.
Health and daily living advice – general
The Coronacast podcasts from ABC are highly recommended. Designed for listening audiences, all information is fully described.
Restrictions and advice in Australia
Refer to the Australian Government website for the most up-to-date essential information on issue such as who should be self-isolating, public gathering restrictions, and what services are available.
COVID-19 symptoms
The Coronavirus Checker is an accessible tool to evaluate your health and provide advice based on best clinical practices, CDC guidelines, illness severity and risk factors like age and pre-existing conditions.
Hand washing
Proper hand washing with soap is an important means of preventing the spread of COVID-19. Thanks to Audio Described Aotearoa for providing this hand washing technique description.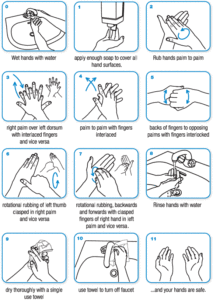 Face mask sewing instructions
The Canadian Network for Equitable Library Services have provided instructions on how to sew your own face mask. The instructions are descriptive and no tracing is necessary. See https://nnels.ca/covid-19-mask-sewing-instructions.
Health and daily living advice for people with a vision impairment
Virtual meetings
Blind Citizens Australia are working hard to provide COVID-19 information and resources for people who are blind or vision impaired. They are offering "BCA Happy Hours" for people who are blind or vision impaired, regardless of whether they are a BCA member or not. The first two weeks of meetings will focus on hearing from you around how BCA can support you to remain connected during these changing times as well as provide a social outlet whilst we are all self-isolating. Based on your feedback, they will then provide an updated schedule of virtual catch-ups and activities. The BCA Happy Hours will take place on Monday, Wednesday and Friday at 11:00am – 12:00pm, and on Tuesday and Thursday at 7:30pm to 8:30pm.
The Braillists in the UK offer a range of advice for vision impaired people in relation to daily living practices during the COVID-19 pandemic. They also offer weekly virtual meetings.
The World Blind Union will be holding a series of Facebook Live sessions to advocate an inclusive response to COVID-19. The first session on Thursday 16 April is on the topic of "Guidance and mobility, personal security in COVID-19 times".
Sighted guide technique
Blind SA recommends that blind people and sighted guides avoid sneezing in the crook of the elbow
as advised by the authorities. They recommend that blind persons and sighted guides instead sneeze into a disposable tissue.
Rather than holding the elbow during sighted guide, the upper arm or shoulder can be held.
Sighted guide technique can also be adjusted through use of a belt. The belt should be sanitised before using. The guide takes the one end while the blind person holds on to the other end. That is, the belt looped on the upper arm of the blind person and the guide. This will provide information through the movement of the guide.
Guide Dog Handling
Guide Dogs Victoria have assured their clients that taking your dog for a walk for exercise is permitted and helpful. However, do not let people pet your dog while on a walk. When you get home you can wash your dog's feet in soap and water, just as you would wash your hands, to minimise the chance of contact contamination.
Guide Dogs NSW have provided further advice for guide dog handlers.
Guide Dog Handlers are being asked to sit in the back seat of taxis and ride share services to maintain social distancing. The dog should sit in the foot well of the back seat with you. Ask the driver to move the passenger seat as far forward as possible and remove the dog's harness so it does not become caught under the front seat. Recommended steps are given on the Guide Dogs Victoria COVID-19 update page.
Learning, working and leisure from home
Natalie Shaheen has compiled a comprehensive list of resources for distance learning and blind students. Refer to https://nlshaheen.com/covid19/.
The American Printing House for the Blind (APH) are compiling a list of free accessible resources for students and adults to use at home. Refer to the APH Resources and Activities for accessible lessons and books, access technology tutorials, Zoom webinar accessibility tips and more.
Paths to Literacy have compiled a list of fun and meaningful activities to support children with vision impairments learning at home.
Melissa Riccobono, first lady of the NFB, will be hosting a webinar on "Home schooling, how to help our children in time of Covid-19″ on Wednesday 22 April at 12 noon EST, which equates to Thursday 23 April at 2am Australian EST. The live event can be joined at www.facebook.com/BlindUnion/ and it will be recorded for later viewing.
Zoom is a popular platform for online meetings and gatherings. Advice on accessibility in Zoom can be found at:
Shopping
Australians with a disability are eligible for priority online shopping and delivery. You must first set up an account on Coles or Woolworths online shopping. NDIS are sending out the required code via SMS, email or post. If you have not already received your code, phone NDIS on 1800 800 110.
Pharmacies around the country can offer free delivery to customers on prescriptions under 500g. The initiative incorporates Australia Post's contactless delivery in line with current COVID-19 guidelines. For more information on this service, please contact your local pharmacy directly.
Blindness services operations
Aira continues to operate its full service, offering live visual descriptions and assistance by phone. However, it has relaxed its policy of no background noise in order to accommodate agents who are parents and must keep their children home from school.
The Brailler Boys are "business as usual" for Perkins brailler repairs, albeit by mail only.
Alternative format production and lending libraries, including Vision Australia, Queensland Narrating House, Braille House and RIDBC continue to produce and distribute books in accessible formats.
Potential transmission of the virus via tactile reading materials
COVID-19 can survive for up to 24 hours on paper. It is suggested that braille books be placed in quarantine for a day before being shared.
Thermoform pages are made from PVC. It can be cleaned with soap and water, alcohol, bleach solution or hydrogen peroxide. Do not use acetone to clean thermoform pages.
Swell paper is made from polystyrene and can also be cleaned with soap and water, alcohol, bleach solution or hydrogen peroxide. However, the rough surface of the raised areas may be resistant or susceptible to cleaning. Options are to spray the page with lacquer before use then clean as above; or place the tactile graphic in quarantine for 72 hours after each use.