What are tactile graphics?
Tactile graphics, also known as raised line graphics, use raised and textures surfaces to convey spatial information to vision impaired people using touch. The graphics can be produced using a wide variety of materials, ranging from collage (e.g. string and pasta glued onto paper), standard techniques such as swell paper or embossing, to metal and other hard-wearing materials for permanent outdoor maps.
When to use tactile graphics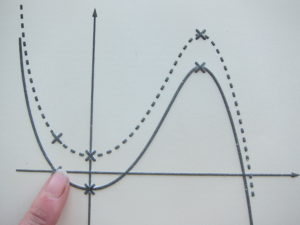 Tactile graphics are the ideal format for diagrams with important spatial information such as graphs, maps, flow diagrams, geometry and technical drawings. They can also be used for most other diagrams but are generally not suitable for direct depiction of graphics which rely heavily on visual conventions such as perspective.
In order to effectively discriminate and interpret tactile diagrams, users require tactile experience and an understanding of graphic conventions. Frequent exposure to a wide range of tactile graphics is recommended. Some excellent resources for teaching tactile graphicacy include:
How to create or obtain tactile graphics
Regardless of the method of production or materials used, all tactile graphics must follow these basic design principles to ensure clarity and usability.
Professional quality tactile graphics are most often designed using graphic design software with braille font labels then embossed using a braille embosser or printed and raised using swell paper.
The Australian Braille Authority's Directory of Braille Services and Products in Australia provides a list of organisations able to produce professional tactile graphics. Up to four weeks lead time may be required.
Electronic masters are available for some common diagrams, as listed on the Australia and New Zealand Accessible Graphics (ANZAGG) repositories page.
Tactile graphics can also be created by hand if access is required quickly and it can be accompanied by verbal explanation to overcome issues in quality. Refer to our guides on creating handmade tactile graphics and creating braille labels for use on a tactile graphic or 3D model.
---
Last updated: August 8, 2018 at 14:08 pm