Skip to: Object detail; Visual description; About the artist; Artist's statement; Soundscape; Next artwork.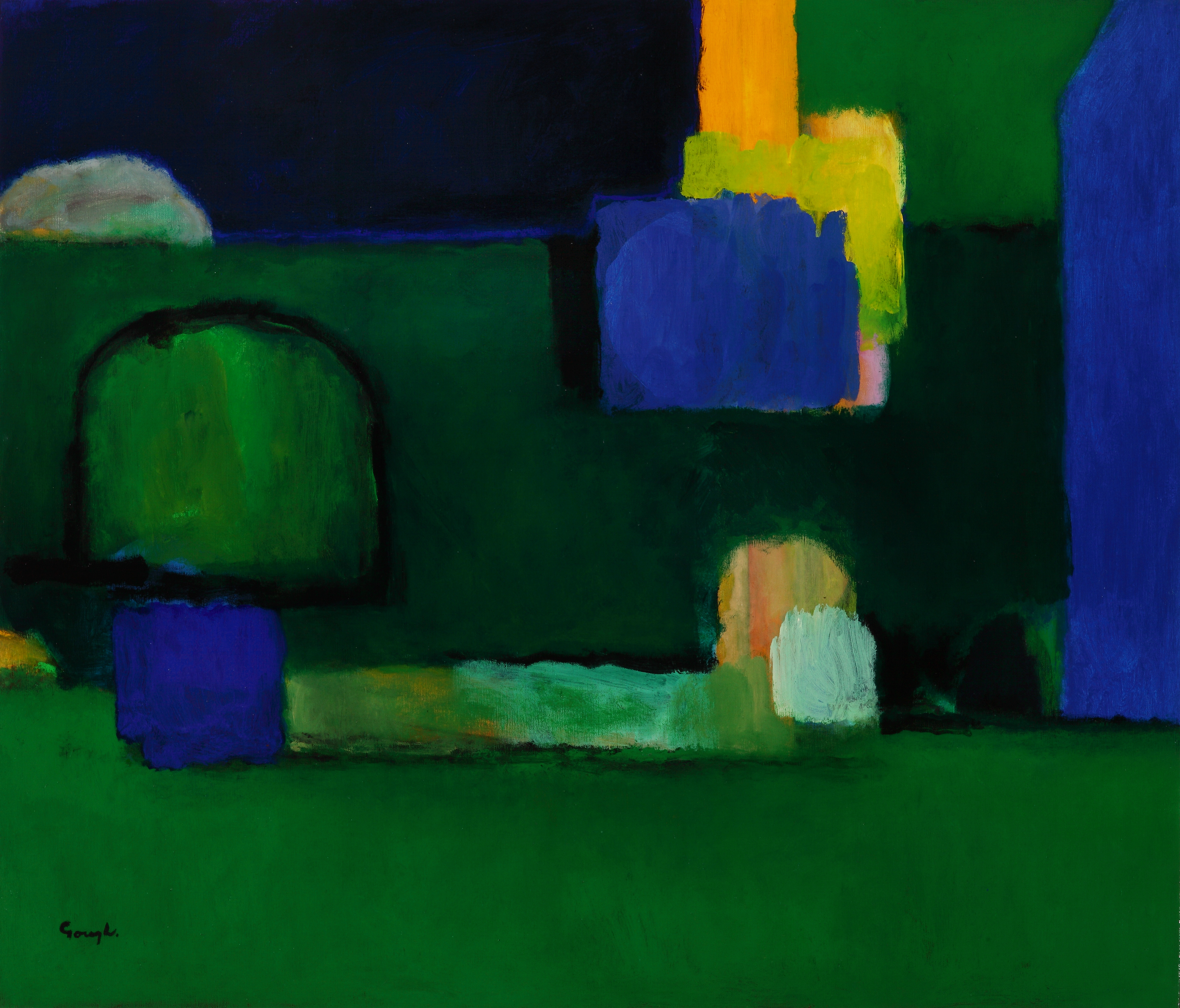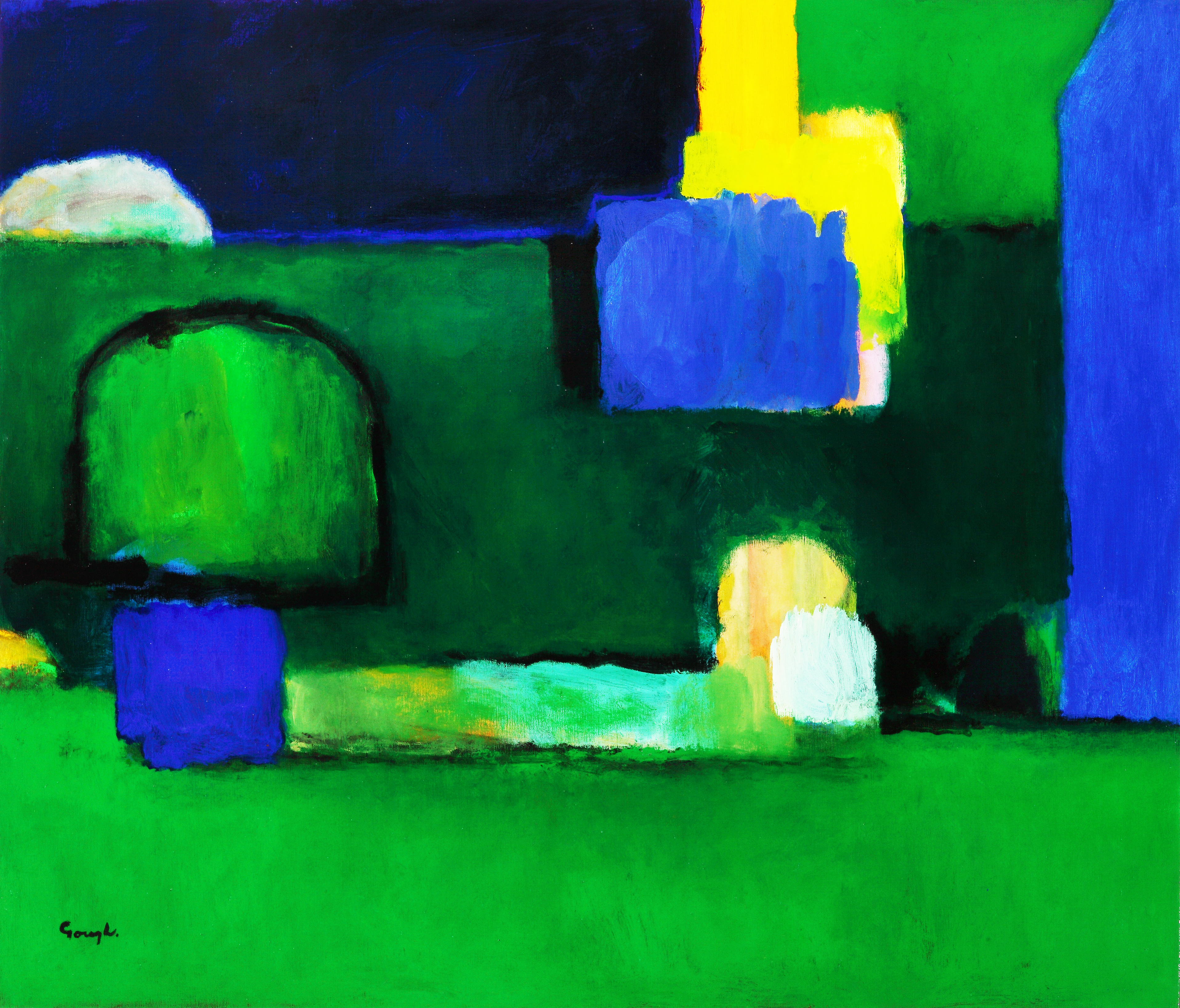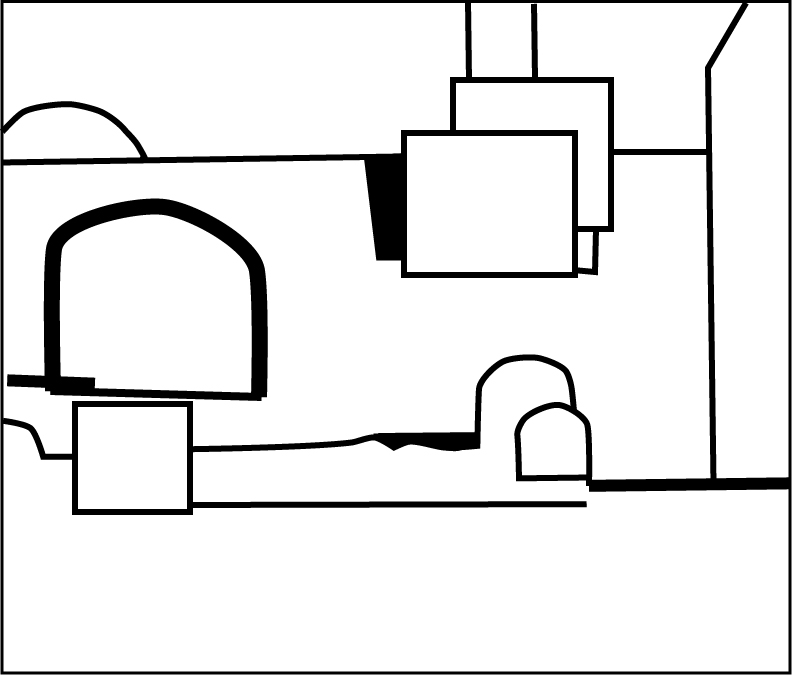 Object detail
Title: Dialogue
Artist: Craig Gough
Date: 2014
Object type: Painting
Medium: Acrylic on linen
Scale: 91 by 107 cm
Location: Gallery 4 (the second gallery on the left from the entry foyer), back wall
Visual description
Dialogue is a semi-abstract painting with large, loosely geometric shapes. The main colours are blue and green, with small areas of yellow and black for outlines and shadows. The shapes are mainly rectangular but with some curved lines. It gives the impression of a back yard suburban landscape with ground, fence or hedge, building, tree …
About the Artist
Born in Perth in 1938, Craig Gough achieved early success participating in a number of exhibitions, in addition to his teaching and professional writing. He moved to Melbourne in 1974 to take up a lectureship in painting at Caulfield Institute of Technology (now Monash University). Gough was appointed Head of Department in Fine Art and Senior Lecturer in Painting before leaving in 1994 to pursue his artistic practice.
Gough has been the recipient of numerous awards and art prizes throughout his career, with his work being acquired by major public galleries, and corporate, institutional and private collections both in Australia and overseas. Gough is now based in central Victoria, working from Gaspard Studios with his partner and fellow artist, Wendy Stavrianos.
Gough draws upon observations of his surroundings for inspiration and his knowledge of the historical context of painting to create works that are both contemplative and expressive. Starting with initial drawings and paintings, Gough resolves problems on a smaller scale before undertaking the final works.
Within his compositions, Gough utilises simple structures as a platform for the exploration of colour and form. The garden, home and immediate environment provide seemingly endless inspiration, with no end to the configurations possible. Gestural and fluid, the deliberately flattened surfaces of these works encourage the viewer to focus on the emotion conveyed rather than a recorded or literal view.
Artist's statement
I seem to have always been concerned with the big abstract ideals like energy, vitality, exuberance, gesture, colour, dynamic structure, rhythm, equilibrium and imaginative solutions to resolve formal tensions in my paintings. The elusive nature of the act of painting itself is the constant challenge for me.
Current works continue my ongoing interest in the garden as subject matter. The garden itself is a controlled landscape, a constructed form of nature which offers me an inexhaustible supply of motifs and ideas for my painting.
Recent past works were concerned with garden ornamentation: garden statuary, conservatories and glasshouses and floral depictions. Some had a more narrative response to the theme where an element of kitsch was investigated and how neo-classical statuary emphasises how gardens can become 'civilized'.
However, since those last exhibitions the paintings' subject matter has become much more a vehicle for further formal exploration rather than narrative symbol. Anatomical, architectural or spatial mimesis was not my interest then and is much less so now. Yet I don't want to throw out the figurative reference, because I still feel that subject matter is a natural development of painting's traditional values and this seems always to have given me inspiration to make the works, whether it is a garden, some buildings or the sea that I paint.
The painting of the garden involves the logic of how each part fits together – the organic with the structured architecture. I enjoy the constant struggle between the idea and how to make it into a painting. Aspects of the 'making' process, where every gesture counts, are registered on the paintings' surface in an approach which is methodical and improvised.
Colour (sometimes saturated) is meant to heighten the emotive content and diminish the constraint of representation.
Some titles of the paintings are deliberately meant to be unhelpful to those seeking a narrative explanation – such as "Arrangement in Blue", "Composition in Yellow", "Structured Field", however, there are enough remaining visual clues to recognise the sources of the works. The subject matter is extended to the edges of the surface of the paintings minimising the distance between the space of the viewer and that of the depicted imagery. From a scrutiny of the subject the process develops as a translation towards a kind of recollection, depicted almost cartoon-like, with an informal embracing of studied awkwardness and calligraphic gesture. The subject from which the painting derives is in itself of little importance to me, except as a beginning. What counts is the power that is behind it.
Soundscape
Sounds of an Australian back yard, early evening in summer.
Next artwork

Paintings by Gough: Red Space;
Structured Space;
Red Vine Structure.

Other paintings: The Drover; The Golden Wedding; A Primrose from England.
Sculptures: Folly; Venus Tying her Sandal.